---
It can feel overwhelming to clean your house. Looking around at all that needs to be done, how do you tackle it all?
By going room by room and step by step. Having a clean home is as simple as setting a schedule and sticking to it. Whether you're cleaning a studio apartment in downtown Dallas or your dream house with the giant kitchen, 5 bedrooms and 6 bathrooms, cleaning is as simple as grabbing a cloth, some spray and starting.
Whether you have a smaller, charming home or a large sprawling mansion, you have to start somewhere. So which room do you clean first? And how do you know which room to do next?
Follow along with these tips to see the best way to clean your home, going from one room to the next.
Cleaning Techniques
Before you get started, make sure you understand how to properly clean each space. Most people think that cleaning is simple because it's not made up of complex rules and problems. While cleaning may be simple, it's not easy. There is a right method for each type of cleaning, following these house cleaning tips: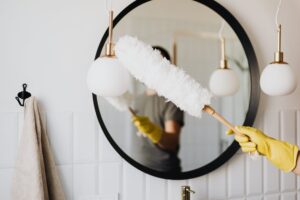 How To Dust – Use a microfiber cloth to wipe down each surface and any items on them. Then, move on to dusting doorknobs, light fixtures, light switches or anything else that's attached to the wall or ceiling. You might want to spray an anti-dusting or cleaning spray before dusting if you're also planning to disinfect these surfaces. Do this dusting step first, before moving on to the floors. When you sweep and mop at the end, you'll be able to gather all the dust and dirt that wasn't caught on the cloth.
How To Mop & Vacuum The Floors – First, put away any shoes, move area rugs and push the furniture to the sides. Then, use a microfiber cloth for your hardwood floors or a vacuum for carpets to mop up or remove dirt, grime and dust. If you're using a bucket to mop, don't forget to empty the dirty water and refill it with clean water regularly.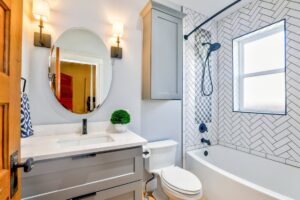 How To Clean The Bathroom – The bathroom needs more intense cleaners to disinfect and remove bacteria. Wipe down all hard surfaces with a disinfectant, paying special attention to the toilet and sink. Use a scrubbing brush to remove mildew from the bath and shower and then, do the floors last.
How To Clean The Kitchen – Similar to the bathroom, the kitchen needs special attention. Spend time wiping down the counters, backsplash, stove and the tops of any appliances in the kitchen. Then, move on to the insides of your microwave, coffee machines, ovens or any other heavily used items in your kitchen. If your fridge has removable shelves, pull them out and clean them in the sink before replacing them. Finally, mop the floors and allow them to dry.
How To Clean A Window – Begin by using a glass cleaner spray and thoroughly coat the window. Then, wipe the window from top to bottom, taking great care not to miss any piece of the glass as you move to avoid streaking.
Clean Your Home In This Order
At Modern Maids, there's an order to everything we do. This is how we provide the high quality, consistent service that our customers expect. To make our cleanings as efficient as possible, we go through each room in the house, cleaning from top to bottom, starting with the "harder" rooms first. We recommend you find a system that works best for you, based on how big your house is and how dirty they are. Before you start on each room, try to tidy up. Put away unused household items and clutter, and designate tasks for each room.
1. Clean The Bathroom First
The bathrooms are usually the hardest room to clean, and so they're a great place to start. Work from the top down, wiping down surfaces, scrubbing out the sink, then the toilet, bath and shower, and finish with the floor. Follow these tips to sanitize your bathroom to make sure it gets the thorough cleaning it deserves.
2. The Kitchen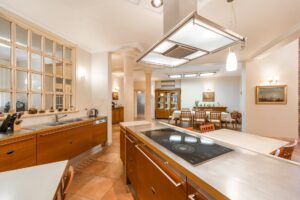 The kitchen is the next hardest place to clean in the house and also one of the most important. This is where we often gather as a family, sharing meals and making memories. Because it's a top priority for our customers and tends to accumulate a lot of dirt, we usually clean the kitchen second. Here, the tasks will include giving any dirty dishes a wash, wiping each surface and scrubbing the entire area, from countertops to kitchen cabinets.
3. Entryways and Hallways
Once we start cleaning, we often clean the entryways and hallways as we go, including stairs, their railings and posts. Excluding the floor, which we vacuum and mop together for the whole house at the end.
4. The Living Room and Family Rooms
Similar to the kitchen, these are areas where we spend a lot of time relaxing, so they need to be done well. We'll start by giving the media console and coffee tables a wipe down before moving on to dusting the shelves and vacuuming the furniture (if needed).
5. Bedrooms
Finally, we finish by cleaning the bedroom. Here, we'll go through the same steps as in other rooms, but we'll also make the beds, strip and clean the linens and focus on general tidying up.
By methodically going through each room, you can keep your cleaning on schedule and save yourself the time and worry of having to figure out what to clean next. This makes cleaning much more efficient, and usually, a lot more enjoyable.
Different Types of Cleaning
The rooms you clean first might change depending on the type of cleaning.
For the most part, there are two ways that people clean their homes:
A thorough, deep clean where your home gets cleaned from top to bottom. The kind we usually refer to as "spring cleaning", where we move all the furniture away from the walls, make the windows shine and dust off the light fixtures we ignored all winter.
Cleaning regularly, either through scheduled maid services or on their own. These cleanings are a little less intense because they happen more often, either every week, two weeks or monthly.
If You Deep Clean Your House
If you're deep cleaning your home, you might want to start with the harder or more tedious areas first so that the job gets easier as it goes on. Doing a deep clean takes time and effort and you don't want to get overwhelmed.
To stay on task, just take the cleaning step by step and prepare your home before you start cleaning by taking the time to put away clutter, clear off surfaces and identify any extra dirty spaces that might need more time. Pro tip: the more you prepare for deep cleaning, the easier it will be.
Routine House Cleanings
Often using a maid service, regular house cleanings are the best solution for keeping a clean home all the time. Through designated tasks, routine cleanings create a warm, welcoming space to enjoy with your family as a group, without the stress of living in a messy space.
Modern Maids provides scheduled house cleaning services for apartments, homes, deep cleaning and move in/move out cleaning for Dallas, Austin, Houston, San Antonio and many of the surrounding Texas towns. To schedule your first cleaning, call us today.
---
---